The Game 2020
From Tanki Online Wiki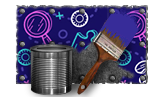 Description
This paint was created specifically for the winners of the quiz THE GAME 2020. Owners of this paint are smart and observant and possess the cerebral skills required to solve the most tricky puzzles, complex ciphers, and hidden meanings.
Rarity
✹ Special
Available From

Recruit
Interesting Facts
Paint appeared on February 7th, 2020.
This paint was given to the winners of THE GAME 2020.
Appearance