From Tanki Online Wiki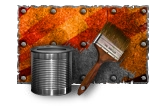 In 2011, Tanki Online HQ decided to launch a brand new Contest for players. Strange clues seemed to be appearing randomly in the game in places such as Maps, players' Garages and even public places such as the Forum. For attentive Tankmen, it was easy to guess that these clues were leading towards something and had a purpose, with the possibility of finding something at the end. Initially, Tanki usually released a congratulatory video and/or prize to the general public. The players really enjoyed this new Quest and later, these Quests were held regularly and usually with reference to various significant dates/celebrations such as New Year's and Tanker's Day.
In recent quests, the concept has somewhat changed. Now, «The GAME» is divided into several days, each of which begins with a video leading to the first clue. Once all the clues for the day are found, players will identify a keyword, then enter it into the special site. Players who managed to achieve a high score may receive various prizes, such as Supplies, Gold Box Supplies, Alterations of their choices, Special Shop Paints and even possibly a dream tank (consisting of fully Micro-Upgraded tanks - occasionally with a Module/Paint as well in the highest modification available to the winners).
Below is a list of of previous quests, along with the prizes offered to the winners and the duration that the event spanned for.
Event

Duration
Prizes
Dream Tank Winner

and their tank of choice

«The GAME»

Tanker's Day (2011)

September 10 (2011)
Congratulatory video from the Tanki team to the Player Base

-

«The GAME»

New Year (2011/12)

December 31 (2011)
Congratulatory video from the Tanki team to the Player Base

-

«The GAME»

New Year (2012/13)

January 1 - 7 (2013)

Top 50: x240
Other winners: x120

-

«The GAME»

May Holidays (2013)

May 1 - 5 (2013)

9636 players
who won

«The GAME»

New Year (2013/14)

January 1 - 7 (2014)

First place: x1000, branded T-Shirt and mug.
2nd - 10th place: x500
Other winners: x100.

ufos92

«The GAME»

Tanki's Birthday (2014)

June 4 - 8 (2014)

First place: Dream Tank and x1000
2nd - 100th place: x500
Players with >25 points" x100
Players with 25 points: x50

KomZorg

(Hunter M3, Ricochet M3, Picasso)

«The GAME»

New Year (2014/15)

January 1 - 7 (2015)

First place: Dream Tank and x1000
2nd - 10th place: x500
Players with >35 points: x100
Players with 35 points: x50

SteelShark

(Hornet M3, Hammer M3, Picasso)

«The GAME»

Tanki's Birthday (2015)

June 1 - 5 (2015)

First place: Dream Tank, x1000 and a branded T-Shirt + mug
2nd - 10th place: x500
Players with >25 points: x100
Players with 25 points: x50

alex7668-rak

(Hunter M3, Smoky M3, Nano)

«The GAME»

New Year (2015/16)

January 3 - 7 (2016)

First place: Dream Tank, x1000 and a branded T-Shirt + mug
2nd - 10th place: x500
Players with >25 points: x50
Players with 25 points: x10

DisappearedStar

(Jade, Taiga, Raccoon)

«The GAME»

Tanki's Birthday (2016)

June 6 - 10 (2016)

First place: Dream Tank, x1000 and a branded T-Shirt + mug
2nd - 10th place: x500
Players with >25 points: x50
Players with 25 points: x10

mucTep_Kpabs

(Hunter M1, Smoky M1, Swash)

«The GAME»

New Year (2016/17)

January 3 - 7 (2017)

2nd - 10th place: x500, x20 and an Alteration of their choice
Players with >25 points: x20
Players with 25 points: x10

killjet

(Titan M3, Hammer M3, Badger T-A M3)

«The GAME»

Tanki's Birthday (2017)

June 5 - 9 (2017)

First place: Dream Tank, a Shop Paint, x1000 and x100
2nd - 10th place: x500, x20, a Shop Paint and an Alteration of their choice
Players with 30 - 112 Points: x20
Players with 25 points: x10

killjet

(Ursa T-J M3, Kodiak T-C M3, Grizzly T-J M3)

«The GAME»

New Year (2017/18)

January 4 - 8 (2018)

Scorpion321

(Ursa TE M3, Ursa TH M3, Grizzly TB M3)

«The GAME»

New Year (2018/19)

January 4 - 8 (2019)

First place: Dream Tank, x50, x500, x100 and a tablet from Prestigio.
2nd place: x400, x80, x40, a Shop Paint and a drone.
Players with 30-112 points: x20
Players with 25 points: x10

KalianUA

(Viking M2, Twins M2, Driver Drone)

«The GAME»

New Year (2019/20)

January 30 - February 4 (2020)

Doomby

(Titan Mk7, Firebird Mk7, Orka Mk7)

«The GAME»

Halloween (2020)

October 2 - 20 (2020)

First place: Dream Tank, The Game 2020 paint, x500, x50, x300, x500, x7 and a smartphone from Nokia.
2nd place: The Game 2020 paint, x400, x40, x200, x400, x5 and a drone.
3rd Place: The Game 2020 paint, x300, x30, x100, x300, x3 and a drone.
4th - 10th place: The Game 2020 paint, x200, x20, x100, x200, and x2.
11th - 100th place: The Game 2020 paint, x50, x5, and x50.
Players with at least 30 points: x20
Players with at least 25 points: x10

Scorpion321

(Ares Mk7, Hopper Mk7, Crisis Drone)

«The GAME»

Iron Days (2021)

February 19 - March 3 (2021)

First place: Dream Tank, x1 000, x100, x300, x500, x7 and a smartphone from Nokia.
2nd place: x700, x70, x200, x400, x5 and a drone.
3rd Place: x500, x50, x100, x300, x3 and a drone.
4th - 10th place: x200, x30, x100, x200, and x2.
11th - 100th place: x50, x10, and x50.
Players with at least 30 points: x5, x20
Players with at least 20 points: x10

andrey1606

(Crusader Mk7, Lifeguard Drone, Miner Drone)