From Tanki Online Wiki
Thankos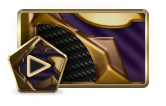 | | | |
| --- | --- | --- |
| Type | | Bundle paint |
| Rarity | | ▨ Special |
Availability
| | | |
| --- | --- | --- |
| Available from | | Recruit |
| Currently obtainable | | No |
| Found in Containers | | No |
| Purchasable in Garage | | No |
Description in Garage
Great titan from Tanki Online (not to be confused with the hull!). It would be great if this paint gave an overdrive "Click" that kills everyone on the map. But the paint does not give abilities.
Thankos is an animated paint in Tanki Online. It could have been purchased from the Shop for 59.99 USD.

Interesting facts
The paint was available for purchase in a set of "Power of Thankos" for $59.90. From May 16 to May 29, 2019.
Contrary to what the paint's description claims, tankers wearing this paint, as with any other paint, do actually have the magical ability to kill all the tankers on the map. The ability is called "git gud" and can be activated by pointing your turret at enemies' hulls and shooting until they take enough damage to be destroyed. Wow!
Appearance