Targies
From Tanki Online Wiki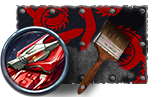 Description
Targies are big, flying lizards with fire-breathing abilities. Thankfully this paint is purely cosmetic and does not give its wearer any of those properties.
This is a temporary paint. It will be removed from all garages on April 29th."
Interesting Facts
Released on 03/29/2019 on the War of Thrones game Event.
Appearance