Tanki in Moscow
From Tanki Online Wiki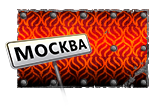 Description
This paint was added to the game especially for the «Tanki in the City» event that took place in Moscow on September 9th, 2017. The paint was also part of the special «Tanki in Moscow» pack.

Attention! This paint was available in the shop as part of a special package during the 2017 Tanki in Moscow event.
Price

15.99 €

Rarity

✹ Special
Available From

Recruit
Interesting Facts
A promo code with this paint was received by all registered participants of the tank meeting in Moscow on September 9, 2017.
Also, the paint was available for purchase in the "Tanks in Moscow" kit from September 2 to September 11, 2017.
Appearance