From Tanki Online Wiki

Definition
According to the standard definition, the «War» was a global event in which four communities (or factions, as referred here) - namely the English, Russian, German and Polish - battled it out for supremacy over the areas of a fictional world (hereinafter called as World). In a nutshell, all the teams had to complete their strategic goals and maintain a high kill/death ratio after voting for two areas to attack and one to defend in the said world. While performing these objectives, they would not only have to work together as a community, but also display high standards of teamwork, coordination, skills and control over the strategic element of the event.
Factions and Their Paints
Before voting for areas in the World, or most importantly, joining a faction, the players must've pick one of the four available paints in the Garage, which are as follows:
Factions' Paints
| | |
| --- | --- |
| Paint | Faction |
| | English |
| | Russian |
| | German |
| | Polish |
Each paint costed 100

and disappeared from everyone's garages after the War concluded.
Resources
Participating teams in the War didn't only have to reach kill goals and maintain a high kill/death ratio, but also gather ten of each resource, Survey Data and Rocket Fuel.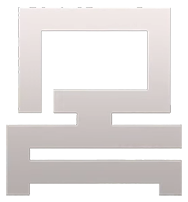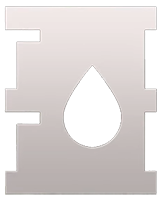 Essentially, there were two ways to earn resources:

Firstly, all teams earned one of each resource from their Capitals every turn.
Secondly, teams could capture areas on the map which hold Survey Data Centers and Rocket Fuel Factories, and also get one of each resource, every turn.

Factions needed to obtain at least ten of each resource before they hold the Nuclear Rocket successfully and win the game. You could attack the region before fulfilling the quota, but then your team had to hold it for one more turn after obtaining the resources.
Components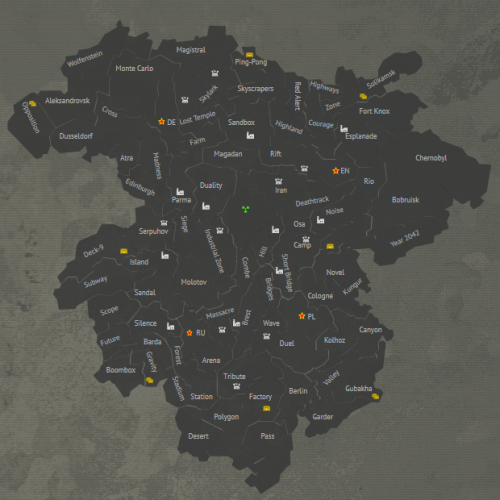 Legend
| | |
| --- | --- |
| Symbol | Purpose/Meaning |
| | Capital |
| | Nuclear Rocket |
| | Factory |
| | Centre |
| | Rocket Fuel |
| | Survey Data |
| | Bonus |
| | Great Bonus |
| | Attack |
| | Defense |

Capitals is where the magic happened. These were special regions on the map from which players started together as the faction and worked towards the Nuclear Rocket, the region which you had to capture in order to win. Capitals not only were the starting point of each team, they are also producers of 1x Survey Data and Rocket Fuel for your team every turn. This means if your team got to turn six, it'll have obtained 6x of each resource from the Capital itself. Capitals could be attacked and seized by other teams, so the faction under attack would have to represent itself with a relatively high kill to death ratio.
Some of the regions in the map held Factories and Data Centers, which provided Rocket Fuel and Survey Data for your team respectively. These could be attacked and defended (only if your team held it) at any time, even if they were held by the enemy team.
A faction had to obtain at least 10x of each resource in order to hold the Rocket region, plus the fact that you had to hold it for one whole turn. This gave all teams the chance of maximizing their profit from event by going for Bonuses and Great Bonuses - which granted you 10x and 20x Containers respectively.
Phases and Scenarios
Being a turn-based event, the War progressed with two major phases - Strategy and Battle Phase; with the latter having two applicable scenarios, «Breach» and «Destruction».
Strategy Phase was the first phase of every turn, in which all the team had to vote for regions to attack and defend on the map and confirm their votes by killing two hundred people. Note that you could vote for two regions to attack and one to defend, but you only needed to make the kills once, not twice. This phase lasted for a whole day (twenty four hours) and must've be strategically driven by the team. Any wrong vote could put the team out of the War, making their loss inevitable.
Battle Phase was the second phase, which came into play right after the Strategy Phase ended. In this phase, the team had to fulfill the global kills counter as a faction (the green bar, as shown below) and maintain a high kill/death ratio as it's doing it.



This phase also lasted for twenty four hours, and could depend on the following scenarios:
«Breach» is when the region which is being attacked is not being attacked by another team and is completely free to take.
In this scenario, you do not need to worry about K/D, you only need to fulfill the kills goal.

«Destruction» is when the region which is being attacked by a team is being attacked by another team (or other teams), or is held by another team after it attacked it previously.
In this scenario, maintaining a high K/D is of the utmost importance as it will decide the result of the attack, that whether your team won the region or lost.
Rewards
First of all, regardless of whether the faction won the War or not, all players who participated in the War and completed their turns received 3x Containers per completed turn.
Attacks on Bonus territories granted the team 10x Containers, while Great Bonus regions granted 20x Containers. These were added into the rewards of the whole faction to win and enjoy. However, you had to confirm your votes by completing two hundred kills! If you didn't do so, you did not receive the Containers.
Players of the winning faction in the War received a special, unique animated paint and three additional Containers for each completed turn, meaning six per turn in total, but not exceeding the overall number of 100x Container at the end of the event. And the best part — all tankers of the winning faction entered a giveaway for a Dream Tank (unless the player had less than five complete turns)!
Course of Action
Faction

Rift
Esplanade

Iran
Sandbox

Nuclear Rocket
Fort Knox

Solikamsk
Hill [PL]

Duality [RU]
Industrial Zone
EN Capital

EN Capital

Sandbox

Nuclear Rocket

Nuclear Rocket

Massacre
Silence

Barda
Brest [PL]

Industrial Zone
Gravity

Molotov
Duality

Island
Duality [EN]
RU Capital

RU Capital

Massacre [PL]

Duality [DE]

Duality [EN]

Lost Temple
Parma

Skylark
Duality

Serpuhov
Ping Pong

Deck-9
Island

Sandbox
Duality [RU]
DE Capital

DE Capital

Lost Temple

Duality [RU]

Parma



Wave
Short Bridge

Factory
Brest [RU]

Massacre [RU]
Hill

Camp
Tribute

Year 2042
Hill
PL Capital

PL Capital

Brest

Hill [EN]

Short Bridge