From Tanki Online Wiki
Steel Micro-fibers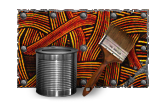 | | | |
| --- | --- | --- |
| Type | | Container paint |
| Price in Garage | | 120 000 |
| Rarity | | ▨ Epic |
Availability
| | | |
| --- | --- | --- |
| Available from | | Recruit |
| Currently obtainable | | Yes |
| Found in Containers | | Yes |
| Purchasable in Garage | | No |
Description in Garage
A coating assembled out of steel micro-fibers, which give it a rugged and weathered look. Ideal for the warrior who has spent countless hours in the battlefield.
Steel Micro-fibers is a paint in Tanki Online. It can be obtained randomly by opening a Container.

Interesting facts
The paint was available for purchase during the 2017 Iron Days celebrations for 120,000 crystals from February 23 to February 27, 2017.
This paint was added to containers on February 5th, 2021.
Though the outer surface of this paint may be orange with rust, the oxidation protects the strong and flexible steel within.
Appearance