From Tanki Online Wiki
Star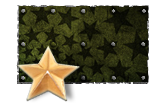 | | | |
| --- | --- | --- |
| Type | | eSports paint |
| Rarity | | ▨ Special |
Availability
| | | |
| --- | --- | --- |
| Available from | | Recruit |
| Currently obtainable | | Yes |
| Found in Containers | | No |
| Purchasable in Garage | | No |
Description in Garage
Exclusive paint only awarded to players who have achieved great victories in eSports. This paint is given to winners of the «TankiSport Season II» tournament.
Star is a paint in Tanki Online. It is awarded to the winners of certain eSports activities.

Interesting facts
Paint appeared on July 4, 2013 (update 166).
With the release of new protective paints on January 29 and February 6, 2015, the paint acquired protection from the Hammer, Vulcan, and mines.
On April 1, 2016, three clans-winners of the Exotic-format blitz tournament in RU-locale received paint.
Before the separation of paints and protection on (07/14/2016), the paint had the protection of 15% from all turrets and mines.
Players who receive this paint will also receive a unique Spectrum B module with 20% protection against all turrets and mines.
The paint was a trophy given to the winners of the Star Battle held among the players of the German community.
The paint is a trophy given to the winners of the Domination series tournament. Players who lose their champion status lose their paint too.
The Star paint was designed firstly specifically for the winners of the "Star Battle" tournament which is held among players of the German community. Later on, the paint was given to the winners of the Setup tournament. A player using this paint will not only stand out from the crowd but will also turn into a serious opponent on the battlefield. After each tournament, the paint is given to new winners.
This unique paint is issued to the winners of the German Clan Championship. A tanker who is in possession of this paint is a real threat, not just because of the decent protection from mines and all turrets, but also due to his skills that allowed him to become one of the best players in the German community.
Appearance