From Tanki Online Wiki
Spectrum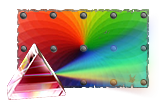 | | | |
| --- | --- | --- |
| Type | | Garage paint |
| Price in Garage | | 16 000 |
| Rarity | | ▨ Legendary |
Availability
| | | |
| --- | --- | --- |
| Available from | | Recruit |
| Currently obtainable | | Yes |
| Found in Containers | | Yes |
| Purchasable in Garage | | Yes |
Description in Garage
This paint has been developed using the latest in quantum research technologies, which allow for probability effects to be applied to a macroworld. The first thought of the creators was to finally do the Schrodinger's cat experiment, but it was blocked by animal rights activists. So instead, they made this paint. If you don't mind all of the complex mathematics and scientific research, it's just a monochromatic paint of a green... wait, Blu... wait... red color. Oh for the love of!... Yellow! AAA! Purple! That's it, I'm done, write this description yourself.
Spectrum is an animated paint in Tanki Online. It can be purchased in the Garage for 16 000 tankoins or obtained randomly by opening a Container.

Interesting facts
The paint was available for purchase in a special offer from October 24 to November 28, 2017.
Regrettably, this paint does not come with a Spectrum module. They go great together if you happen to have one, though!
Appearance