From Tanki Online Wiki
Spark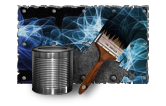 | | | |
| --- | --- | --- |
| Type | | Garage paint |
| Price in Garage | | 200 000 |
| Rarity | | ▨ Rare |
Availability
| | | |
| --- | --- | --- |
| Available from | | Recruit |
| Currently obtainable | | Yes |
| Found in Containers | | Yes |
| Purchasable in Garage | | Yes |
Description in Garage
Fairy lights, stage lights, music of the spheres - this paint can be described using many words, but none of them can ever fully describe it. The "Spark" paint is chosen by those tankers for whom the tank is not only a battle machine, but also a means of expression.
Spark is a paint in Tanki Online. It can be purchased from the rank of

Recruit in the Garage for 200 000 crystals or obtained randomly by opening a Container.

Interesting facts
Paint appeared on July 29, 2010.
Prior to the Paint Separation Update, Spark was worth 79,500 crystals and could be bought from the rank of Captain.
Legacy paint description:
A paint that offers average protection against Firebird and Twins, and a solid defence against Ricochet. Good for close to mid-range battles. It will embellish your tank with sparks.
Appearance