Snowman
From Tanki Online Wiki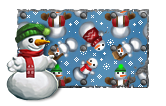 Description
A special paint for "Catch the Snowman" event which was held during the New Year 2017-2018-2019-2020 festivities. The paint was issued to Helpers of Administration on January 4, and removed immediately after the event concluded.
Rarity
✹ Special
Interesting Facts
Special paint for the "Catch the Snowman" contest held as part of the 2017-2018 New Year's marathon of contests.
It was issued to assistants to the administration at the time of the competition (01/04/2018 from 18:00 Moscow time to 21:00 Moscow time) and was withdrawn at the end of the competition.
The event was held again in January 2020.
Appearance