Secret of the Aliens
From Tanki Online Wiki

Did you know that...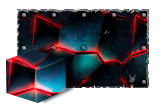 Description
This paint reflects the suspicious alien object recovered from a crash several years ago at one of the tank polygons. The Object is coated in an unknown material — a molecular structure that couldn't be identified or recreated.

Attention! This paint was available for purchase during the 2017 Tankers' Day celebrations in a bundle.
Price
24.99 €
Available From

Recruit
Appearance