From Tanki Online Wiki
Sakura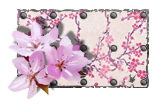 | | | |
| --- | --- | --- |
| Type | | Garage paint |
| Price in Garage | | 180 000 |
| Rarity | | ▨ Rare |
Availability
| | | |
| --- | --- | --- |
| Available from | | Recruit |
| Currently obtainable | | Yes |
| Found in Containers | | Yes |
| Purchasable in Garage | | Yes |
Description in Garage
The parade paint for the samurai tank division. It brings inner harmony and infinite tranquility. Not even the sirens can disrupt the state of mind of the tanker whose tank is wearing this paint.
Sakura is a paint in Tanki Online. It can be purchased from the rank of

Recruit in the Garage for 180 000 crystals or obtained randomly by opening a Container.

Interesting facts
Paint appeared on February 6, 2015.
Prior to the Paint Separation Update, Sakura was worth 50,500 crystals and could be bought from the rank of Third Lieutenant.
Legacy paint description:
A paint that protects well against Hammer and Isida. Helps slightly against Vulcan damage. Will be useful at any distance. Will cover your tank with flowers from the sakura tree, giving you a feeling of harmony.
Appearance