From Tanki Online Wiki
Safari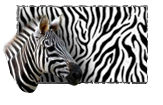 | | | |
| --- | --- | --- |
| Type | | Garage paint |
| Price in Garage | | 75 000 |
| Rarity | | ▨ Rare |
Availability
| | | |
| --- | --- | --- |
| Available from | | Recruit |
| Currently obtainable | | Yes |
| Found in Containers | | Yes |
| Purchasable in Garage | | Yes |
Description in Garage
Designed by those who love the thrill of the safari, this paint masks the tank as an innocuous zebra, which makes it perfect for hunting African predators, as well as naive tankers.
Safari is a paint in Tanki Online. It can be purchased from the rank of

Recruit in the Garage for 75 000 crystals or obtained randomly by opening a Container.

Interesting facts
Prior to the Paint Separation Update, Safari's was worth 3,000 crystals and could be bought from the rank of Staff Sergeant.
Legacy paint description:
A paint that protects against Isida beams. Good for short-range battles. Gives tanks a zebra-like look.
Appearance