From Tanki Online Wiki
Rhino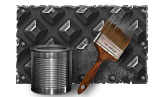 | | | |
| --- | --- | --- |
| Type | | Garage paint |
| Price in Garage | | 37 000 |
| Rarity | | ▨ Rare |
Availability
| | | |
| --- | --- | --- |
| Available from | | Recruit |
| Currently obtainable | | Yes |
| Found in Containers | | Yes |
| Purchasable in Garage | | Yes |
Description in Garage
This cover acknowledges the fact that a true tanker doesn't need fancy colors or patterns. What's important is the strength of the shell.
Rhino is a paint in Tanki Online. It can be purchased from the rank of

Recruit in the Garage for 37 000 crystals or obtained randomly by opening a Container.

Interesting facts
Paint first appeared on February 6, 2015.
Prior to the Paint Separation Update, Rhino was worth 102,500 crystals and could be bought from the rank of Lieutenant Colonel.
Legacy paint description:
A paint with impressive protection against Hammer and Vulcan. Slightly decreases damage from enemy Firebirds. Perfect for medium range combats. Covers your tank with thick metal armor plates.
Appearance