Registration
From Tanki Online Wiki

Did you know that...

Registration begins at the Tanki Online homepage: http://tankionline.com/
Please ensure you're familiar with the Game Rules and the License Agreement before registering!


Click on Play on the right side of the main page.




The registration form will appear. Choose and enter your nickname and password here.





If the nickname you entered is already in use by another player, you will see the following message:




If the password is too simple (for example "123" or "qwerty"), you will see the following message:





After that, re-enter your same password in the third field called Repeat.

If the two passwords do not match, you will see the following message:




If you incorrectly enter your password multiple times, you will receive the following validation pop-up:





By checking the box above the completion button, you are confirming that you have read and agreed to the terms of the License Agreement, Game Rules and Privacy Policy.
Once all three fields are correct, click on the Complete button. Your new account has now been registered.
Linking an account to an e-mail address
This function is necessary in order for your account to remain secure. It is also helpful in case of emergency situations, such as password recovery or server failure.
The same e-mail address will be used to receive all important e-mails from the game (e.g. confirmation of registration, information about updates etc.). Make sure you link an e-mail address to which you have regular access.
While in the game, click on Settings in the top-right hand corner of the screen.
The Settings window will appear. Enter your e-mail address:




Click on Save. The following message will appear:




Check for an e-mail from Tanki Online. There will be a link to confirm your e-mail address. Open it in your browser, and the following message will appear on the screen:




Your account is now linked with your e-mail address.

Entering Tanki Online with Facebook
Everyone who enters the game for the first time will see the registration form. Instead of registering here, new players have the option to sign up via Facebook.
Click on the Facebook icon at the bottom of the form.




After that, if you're not already logged into Facebook, the following window will appear. Enter your e-mail and password to log into Facebook:




You will see the following window. Click Play Now:




You will then need to enter a nickname for Tanki Online:




After entering your nickname and clicking Accept, your account is now registered. From then on, you will be able to enter the game by simply clicking on the Facebook icon.


Now, let's see how the system works for players that already have Tanki Online accounts, but who want to improve their security by linking their existing account to Facebook. In order to do this, you can choose one of two options:

Use the Facebook icon on the entry screen:




Or use the icon in the Settings menu:




When linking your account using the entry screen, you will need to re-enter your Tanki Online nickname and password once again, in order to prove that this account is really yours.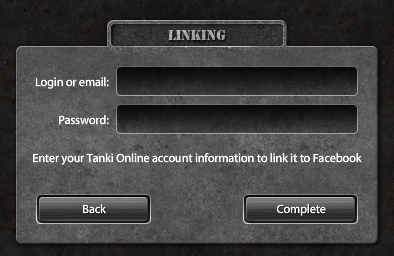 Else, if you link your account using the Settings menu, you won't need to enter your password, as you are already logged into the game. Everything will be done straight away!


Please note that you can only link one Tanki Online account to a Facebook profile. If you want to unlink your TO account from Facebook, simply go to Settings and click on the Facebook icon.