From Tanki Online Wiki

Attention! Referral links no longer work. It's still possible to create a link but the system will no longer track players who were invited via the link. However, referrals invited prior to the closure of the Flash client are still tracked and you will still receive bonuses from their actions.
Referrals are players that you invite into the game. You can do it using any of the following methods:
Sending invitation letters to email addresses
Placing referral links
Every time that a player who was invited by you ranks up or buys crystals for real money, you automatically receive a corresponding bonus on your account.


Inviting Players
In the lower bar...




You can see the "Friends" button:

-- click on it to open your friend's list.

Then go to "Invited Users."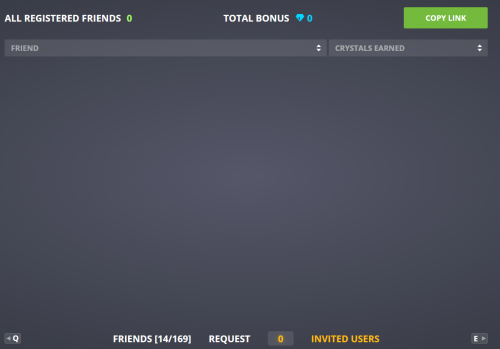 Here you can see a list of your invited players (if applicable). By clicking

your referral link will automatically be copied to your clipboard. Now you send this link to other people, so that when they click on it, they become one of your referred accounts. You get crystals every time any of your referrals rank up or buys crystals. 10% of the sum of crystals bought for real money by any of your referred accounts are sent to your account.



Attention! Referral links should be distributed only where there is an audience unfamiliar with Tanki Online - on forums, in social networks, in private messages to friends, etc. It makes no sense (and, moreover, can lead to a ban) to invite referrals on any resources related to "Tanki Online" (in the lobby chat, in games, in game forums, social network groups dedicated to Tanki Online, etc.) since this audience already knows about Tanki and, most likely, has accounts in the game, therefore not needing to become someone's referral. In addition, please note that the distribution of referral links on any third-party resources can be punished according to the rules of third-party resources.
Crystal Chart