From Tanki Online Wiki
Radar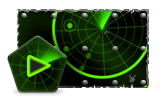 | | | |
| --- | --- | --- |
| Type | | Container paint |
| Rarity | | ▨ Legendary |
Availability
| | | |
| --- | --- | --- |
| Available from | | Recruit |
| Currently obtainable | | Yes |
| Found in Containers | | Yes |
| Purchasable in Garage | | No |
Description in Garage
This paint was originally created with the intent of having a radar that drivers can see no matter where they look. Unfortunately, it didn't quite work as planned. But on the flip-side, the paint now has a hypnotic effect on whoever looks at it. ""You are a toaster. Listen to me... YOU are a toaster""
Radar is an animated paint in Tanki Online. It can be obtained randomly by opening a Container.

Interesting facts
Radar was added to the game on August 9th, 2019 as part of the 2019 Summer Sales event.
This paint was part of a special bundle for 59.90 USD and is now only obtainable from Containers.
Appearance