From Tanki Online Wiki
Raccoon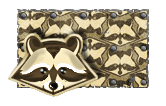 | | | |
| --- | --- | --- |
| Type | | Garage paint |
| Price in Garage | | 210 000 |
| Rarity | | ▨ Rare |
Availability
| | | |
| --- | --- | --- |
| Available from | | Recruit |
| Currently obtainable | | Yes |
| Found in Containers | | Yes |
| Purchasable in Garage | | Yes |
Description in Garage
This paint is one of three mandatory possessions for all members of the Worldwide Raccoon Club. The jacket and the tie are only awarded after the initiate has achieved the status of "Cute Raccoon". It's serious business.
Raccoon is a paint in Tanki Online. It can be purchased from the rank of

Recruit in the Garage for 210 000 crystals or obtained randomly by opening a Container.

Interesting facts
Paint first appeared on February 6, 2015.
Prior to the Paint Separation Update, Raccoon was worth 210,000 crystals and could be bought from the rank of Fieldmarshal.
Legacy paint description:
A versatile paint protecting against Isida, Hammer, Vulcan and Railgun. Will help you in any situation. Buying this paint automatically makes you a member of the worldwide raccoon fan club!
Appearance