From Tanki Online Wiki
Prestigio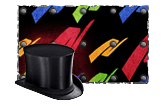 | | | |
| --- | --- | --- |
| Type | | Container paint |
| Rarity | | ▨ Special |
Availability
| | | |
| --- | --- | --- |
| Available from | | Recruit |
| Currently obtainable | | Yes |
| Found in Containers | | Yes |
| Purchasable in Garage | | No |
Description in Garage
Every magic trick consists of three parts:
"The Bait" — The magician shows you something ordinary. "The Turn" — The magician takes the ordinary something and makes it into something extraordinary.
But every magic trick has a third part, the hardest part we call "The Prestige", which holds the secret behind the miracle.
Prestigio is an animated paint in Tanki Online. It can be obtained randomly by opening a Container.

Interesting facts
This paint was part of a special promotion with the company, Prestigio. It was only obtainable after purchasing and registering a device from one of the specific stores.
Paint could have been obtained from containers, as well as taking part in the action with Prestigio.
Though it may not be possible to pull a rabbit out of a hat without some kind of trickery, it is possible to pull a wasp out of your garage. Voilà!
Appearance