From Tanki Online Wiki
Pixel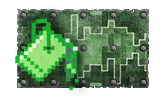 | | | |
| --- | --- | --- |
| Type | | Garage paint |
| Price in Garage | | 25 000 |
| Rarity | | ▨ Common |
Availability
| | | |
| --- | --- | --- |
| Available from | | Recruit |
| Currently obtainable | | Yes |
| Found in Containers | | Yes |
| Purchasable in Garage | | Yes |
Description in Garage
In a battlefield made of pixels, a paint made of pixels offers the perfect camouflage for melting into the background. No dead pixels on this one!
Pixel is a paint in Tanki Online. It can be purchased from the rank of

Recruit in the Garage for 25 000 crystals or obtained randomly by opening a Container.

Interesting facts
Paint first appeared on January 30, 2015.
Prior to the Paint Separation Update, Pixel was worth 29 000 crystals and could be bought from Warrant Officer 3.
Legacy paint description:
This paint gives you good protection from Hammer and slightly decreases the damage you tank from Smoky. Will be quite useful at medium ranges. Covers your tank in a fun pixel pattern.'
Appearance