Phoenix
From Tanki Online Wiki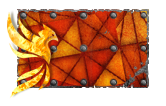 Description
This paint is awarded to teams in the International Community for outstanding performance in Parkour. It may only be worn by the craziest daredevils, and due to the highly volatile nature of its particles, it will abandon the owner's tank if its not fed a regular dose of concentrated adrenaline.
The only current team who own this paint is The Flying Parkourists (TFP)

Attention! Players who leave the team lose their paint.
Rarity
✹ Special
Interesting Facts
Paint appeared on August 12, 2016.
It was first issued to The Flying Parkourists.
Also, from April 6, 2017, the Fight & Flight team has owned the paint however they lost it on March 21st 2020.
List of paint owners:
Intellect
Cod
Xone
Raide
Espoir
Requin
Jumper
Morendy
Do.Or.DiE
chiragdon
Appearance