From Tanki Online Wiki
Neuron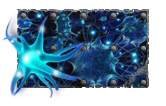 | | | |
| --- | --- | --- |
| Type | | Garage paint |
| Price in Garage | | 4 000 |
| Rarity | | ▨ Epic |
Availability
| | | |
| --- | --- | --- |
| Available from | | Recruit |
| Currently obtainable | | Yes |
| Found in Containers | | Yes |
| Purchasable in Garage | | Yes |
Description in Garage
Using a sophisticated neural network, our scientists have created an artificial paint designer to optimize paint job production. To test its capabilities, the scientists gave it the task of drawing itself. Neural Network took the task literally, as can be seen from the result. Some scientists speculate that Neural Network might have been joking, and might even be self-aware, but we assure you that we've taken every precaution to prevent possible robot apocalypse scenarios.
Neuron is a paint in Tanki Online. It can be purchased in the Garage for 4 000 tankoins or obtained randomly by opening a Container.

Interesting facts
Paint appeared on September 13, 2016.
Appearance