Nanosuit Armor
From Tanki Online Wiki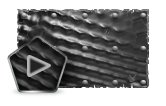 Description
During production, this paint was originally called, "That paint with slithering black and gray textures that looks really cool". But due to character limit restrictions in the game, the devs had to settle for something a bit simpler. Pity. It would've been an awesome name.

Attention!
This paint can only be unlocked as part of the paid Battle Pass at Tier 28 of September Challenges.
Rarity

Legendary
Available From

Recruit
Interesting Facts
The paint could be received as a reward for completing the challenges of the challenge (09/01/2019 - 09/29/2019) with a battle pass.
Appearance