From Tanki Online Wiki
Moonwalker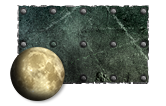 | | | |
| --- | --- | --- |
| Type | | Container paint |
| Price in Garage | | 3 000 |
| Rarity | | ▨ Epic |
Availability
| | | |
| --- | --- | --- |
| Available from | | Recruit |
| Currently obtainable | | Yes |
| Found in Containers | | Yes |
| Purchasable in Garage | | No |
Description in Garage
This unique paint was created especially for the "Farewell to Moon Silence" event. It was available in the shop until October 10th, 2013. For those who purchased it in that time, in memory of this map, the paint remains in their garage forever.
Moonwalker is a paint in Tanki Online. It can be obtained randomly by opening a Container.

Interesting facts
This paint can be obtained out of a container.
Prior to the Paint Separation Update, the paint had 22% protection from Ricochet.
Legacy paint description:
A rare paint that could have been bought only during the Farewell to Moon Silence event from October 2 to 10, 2013. This paint will serve the owner as a reminder of the great map.
Appearance