Microchip
From Tanki Online Wiki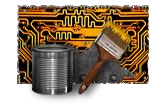 Description
Scientists from secret labs spent years developing this paint. The task was unusual as it was important to create not just a protective coating but an intelligent barrier. The main purpose of Microchip is to sort the questions addressed to the owner. According to the results of tests, 95% of the questions are strange and illogical. With this paint questions that don't meet the requirements are automatically blocked so that the owner gets more time to answer truly important ones. It was decided to solemnly hand over the coverage to the consultants so that their business would flourish and grow. Outwardly, protection resembles a microcircuit, which refers us to the ancient inventions of people, because of the microcircuit, like a consultant,

Rarity
✹ Special
Interesting Facts
Paint appeared on June 1, 2012.
The author of the paint is Criostasis.
Appearance