From Tanki Online Wiki
Matrix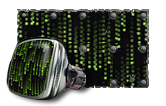 | | | |
| --- | --- | --- |
| Type | | Garage paint |
| Price in Garage | | 18 000 |
| Rarity | | ▨ Legendary |
Availability
| | | |
| --- | --- | --- |
| Available from | | Recruit |
| Currently obtainable | | Yes |
| Found in Containers | | Yes |
| Purchasable in Garage | | Yes |
Description in Garage
Have you ever had a dream, Neo, that you were so sure was real? What if you were unable to wake from that dream? How would you know the difference between the dream world and the real world?
Matrix is an animated paint in Tanki Online. It can be purchased in the Garage for 18 000 tankoins or obtained randomly by opening a Container.

Interesting facts
Paint was added to containers on January 27, 2018.
This paint can also be currently obtainable from the "Modest" showcase bundle.
It is not the tank that wins the battle; it is only yourself.
Appearance