From Tanki Online Wiki
Lucky 7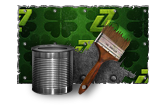 | | | |
| --- | --- | --- |
| Type | | eSports paint |
| Rarity | | ▨ Special |
Availability
| | | |
| --- | --- | --- |
| Available from | | Recruit |
| Currently obtainable | | Yes |
| Found in Containers | | No |
| Purchasable in Garage | | No |
Description in Garage
Exclusive paint only awarded to players who have achieved great victories in eSports. This paint is given to teams who were close to victory in the «TankiSport Season I», «TankiSport Season II», or «TankiSport Season III» tournaments.
Lucky 7 is a paint in Tanki Online. It is awarded to the winners of certain eSports activities.

Interesting facts
Players who receive this paint at 2nd place they will also receive a unique Spectrum C module with 15% protection against all turrets and mines.
Paint appeared on July 4, 2013 (update 166).
The idea of ​​creating paint belongs to the community managers of the English community Bruce Lunge and Semyon Kirov.
A unique paint with special protection that was given to the winners of the Lucky 7 Season I and II.
A rare paint that could be obtained only by winning the Lucky Seven tournament. Had protection of 15% of all turrets and mines.
The paint was given out to the winners of the Lucky 7 competition held among English community players.
From February 2014 - January 2021, the paint is removed from the game, for 7 years no one had it.
On January 29th, 2021, the paint was readded to the game.
The paint was given to places 2-8 for Tournament TankiSport Season I in January 2021.
«

The English community in the past was isolated from others. In Russian-language e-sports competitions, "Champion" and "Acid" paints were played out, in German-language "Star" paints, and the British did not have award paints, which they were very unhappy with. Therefore, the English-speaking community was really happy when they also had their own tournament, called "Lucky 7", and the eponymous paint. In total, two seasons were played, which took place in the summer and autumn of 2013. The Shield of Fireteam won in the first, which became the first owner of the paint, and in the second - Noob Army. In February 2014, the paint was seized, and the tournament itself is no longer being held.

»
— joostcool, one of the former paint owners
Appearance