From Tanki Online Wiki
Loam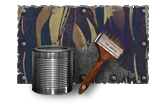 | | | |
| --- | --- | --- |
| Type | | Garage paint |
| Price in Garage | | 6 500 |
| Rarity | | ▨ Common |
Availability
| | | |
| --- | --- | --- |
| Available from | | Recruit |
| Currently obtainable | | Yes |
| Found in Containers | | No |
| Purchasable in Garage | | Yes |
Description in Garage
Nobody pays much attention to dirty vehicles. The "Loam" paint uses this psychological element to your tank's advantage by disguising it as a dirty piece of machinery. And once your enemy turns his back on you, that's when you strike!
Loam is a paint in Tanki Online. It can be purchased from the rank of

Recruit in the Garage for 6 500 crystals.

Interesting facts
Paint first appeared on July 29, 2010.
Prior to the Paint Separation Update, Loam was worth 102,500 crystals and was purchasable at the rank of Lieutenant Colonel.
Legacy paint description:
An all-around paint that gives solid protection against Firebird and somewhat reduces the damage done by Thunder, Freeze and Ricochet. Great for mid to long-range battles. Sports a natural masking texture that makes the tank harder to spot.
Appearance