Lightning Storm
From Tanki Online Wiki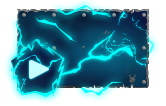 Description
A rippling electrical current flows right beneath the transparent coating of this paint, making your tank look like a mobile plasma ball of destruction.
Rarity

Legendary
Available From

Recruit
Interesting Facts
This paint was only available during the first release of Challenges which lasted from 14th December until 25th January (6 weeks).
Paint can also be obtained from the container.
Appearance