Liana
From Tanki Online Wiki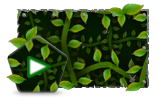 Description
This paint is a natural wonder. And unlike many other "living" colors, this one moves due to the rare species of lianas that coat the tank. The homeland of this rare plant in Eastern Laos.
Rarity

Legendary
Available From

Recruit
Interesting Facts
Paint could be received as a reward for completing the challenges of the challenge (02/01/2019 - 03/01/2019) with a battle pass.
Paint can also be obtained from the container.
Appearance