LEDs
From Tanki Online Wiki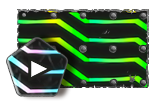 Description
The owner of this paint is a welcome guest for any party or event, since their tank, decorated with flowing colorful lights, will shine like a strobe.
Rarity

Legendary
Available From

Recruit
Interesting Facts
The paint was added to the containers on August 10, 2018.
This coating can only be obtained from the container.
Appearance