From Tanki Online Wiki
Jaguar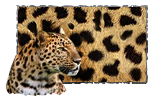 | | | |
| --- | --- | --- |
| Type | | Garage paint |
| Price in Garage | | 300 000 |
| Rarity | | ▨ Rare |
Availability
| | | |
| --- | --- | --- |
| Available from | | Recruit |
| Currently obtainable | | Yes |
| Found in Containers | | Yes |
| Purchasable in Garage | | Yes |
Description in Garage
Hand-crafted to give your tank the look of a noble predator ?— the camouflage of a true hunter.
Jaguar is a paint in Tanki Online. It can be purchased from the rank of

Recruit in the Garage for 300 000 crystals or obtained randomly by opening a Container.

Interesting facts
Legacy paint description:
A paint that somewhat protects against Firebird and Thunder, but does a better job against Freeze. Useful in short to mid-range battles. Makes your tank look like a wild cat.
Appearance