From Tanki Online Wiki
Inferno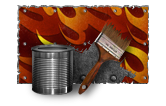 | | | |
| --- | --- | --- |
| Type | | Garage paint |
| Price in Garage | | 440 000 |
| Rarity | | ▨ Rare |
Availability
| | | |
| --- | --- | --- |
| Available from | | Recruit |
| Currently obtainable | | Yes |
| Found in Containers | | Yes |
| Purchasable in Garage | | Yes |
Description in Garage
The "Inferno" paint is delivered via shady means to the black market of China's glass-blowing workshops. According to the producers themselves, its defiant appearance symbolizes strength, courage, luck, and longevity. An excellent paint for a fierce attacker.
Inferno is a paint in Tanki Online. It can be purchased from the rank of

Recruit in the Garage for 440 000 crystals or obtained randomly by opening a Container.

Interesting facts
Paint first appeared on May 28, 2011.
Prior to the Paint Separation Update, Inferno was worth 159,000 crystals and could be bought from the rank of Lieutenant General.
This paint can also be currently obtainable from the "Eternal" showcase bundle.
Legacy paint description:
A paint that provides excellent protection against Firebird and Freeze, and somewhat lessens the damage done by Twins. Works well for short to mid-range battles. It will light your tank on fire, drawing the attention of all the players around you.
Appearance