From Tanki Online Wiki
In love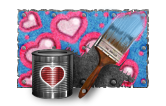 | | | |
| --- | --- | --- |
| Type | | Garage paint |
| Price in Garage | | 55 000 |
| Rarity | | ▨ Rare |
Availability
| | | |
| --- | --- | --- |
| Available from | | Recruit |
| Currently obtainable | | Yes |
| Found in Containers | | Yes |
| Purchasable in Garage | | Yes |
Description in Garage
Designed for the sophisticated and romantic ones, this paint will satisfy your desire for aesthetically pleasing military attributes. It will also earn you a few valuable seconds by fascinating your enemy with the extravagant looks of your tank, covered in red hearts.
In love is a paint in Tanki Online. It can be purchased from the rank of

Recruit in the Garage for 55 000 crystals or obtained randomly by opening a Container.

Interesting facts
The paint received a new design on 2015 Valentine's Day.
The previous version of the paint is now sold under the name First Love.
Legacy paint description:
A paint that performs decently against Isida, Freeze and Ricochet. Good for short to mid-range battles. The right choice if you want to go romantic all the way.
Appearance