From Tanki Online Wiki
IR Iran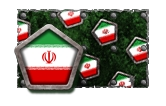 | | | |
| --- | --- | --- |
| Type | | Garage paint |
| Price in Garage | | 10 |
| Garage category | | ▨ Uncommon |
| Container rarity | | ▨ Rare |
Availability
| | | |
| --- | --- | --- |
| Available from | | Recruit |
| Currently obtainable | | Yes |
| Found in Containers | | Yes |
| Purchasable in Garage | | Yes |
Description in Garage
To celebrate holidays together with friends tankers of Iran decorate their machines with this paint, symbolizing Iran's long history and many unsolved mysteries.
IR Iran is a paint in Tanki Online. It can be purchased in the Garage for 10 tankoins or obtained randomly by opening a Container.

Interesting facts
This paint was added into the game for the first time on 10th July 2014, in honour of the 2014 FIFA World Cup.
Appearance