Honor
From Tanki Online Wiki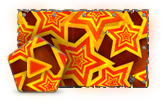 Description
Before creating this paint, we asked for the opinion of 2000 veteran warriors. Our question was, "What's the most important thing in life?" They all had the same answer. "HONOR!" they roared in one voice.
Price

$59.90

Rarity

Legendary
Available From

Recruit
Interesting Facts
This paint was added into the game on 22nd February 2019, as part of the 2019 Iron Day's celebrations. Simultaneously it was added to Containers permanently.
Paint can also be obtained from the container.
Appearance