Holiday
From Tanki Online Wiki

Description
A unique and "smart" paint that can change its appearance depending on the occasion. On a regular day, it is simply a gray and white, checkered texture. But when a holiday kicks in, its appearance changes dramatically.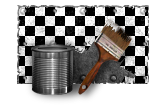 Click to preview texture!
Price

0

Rarity

✹ Special
Available From

Recruit
Interesting Facts
Holiday, along with Green, are the only two paints issued for free to all the players who register in the game.
During celebrations in TO, the appearance of this paint is often changed by the developers for the duration of the festivities - and thus the name. You can view a complete list of its past textures here.
Prior to October 16th, 2018, the default appearance of this paint was slightly different from what it now is.
Due to its cheapness and availability, an easily-accessible paint like one this is often required to be equipped in media contests such as Video of the Week - to prevent older content from being used.


Appearance