From Tanki Online Wiki
Helper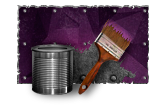 | | | |
| --- | --- | --- |
| Type | | Award paint |
| Rarity | | ▨ Special |
Availability
| | | |
| --- | --- | --- |
| Available from | | Recruit |
| Currently obtainable | | Yes |
| Found in Containers | | No |
| Purchasable in Garage | | No |
Description in Garage
A unique paint that protects its owner from all types of weapons. It is only issued to the best helpers of the project. For them, Tanki Online is more than just a game.
Helper is a paint in Tanki Online.

Interesting facts
Paint appeared on November 7, 2013.
The helpers who receive this paint also receive a unique Spectrum B module with 20% protection against all turrets and mines.
With the release of new protective paints on January 29 and February 6, 2015, the paint acquired protection from the Hammer, Vulcan, and Mines.
Before the separation of paints and protections (07/14/2016), the paint had the protection of 18% from all turrets and mines.
Paint is given to the best helpers of the month.
Paint will be available in administration assistants' garages as long as they remain on the list of the best helper.
EN
3Be3go4ka_c_He6a
Abovo
Adab
Apost
At_Shin
Blutchidoo
CyPPeR_HyPo4kA
Defeat
Dmitry
Dynasty
elcatalagamer
Emil
emrakul
EvilSnowflake
Graphics
Hugoslav
Hunter_violators
i.Alfi
Immortal_Hero_Ximera
ingrid10000
Ironmantonystark
Jack
JESUSaves2
Jutska
k4n
kydapoot
Leia.As.Regras
lewd
Lotto
mannybakshi
MarcelKaot
metromoskva
Mr.Kenan
NeverBeTheSame
PR0_STYL3
Pythor
R-A-D-U-G-A
rubi_GTO
StealthMasterX
Super_Nickson
syntax
thunderhunter123
V_i_k_TO_r_i_A
Venerable
Viper_BR1O1
Vision
Zackery459
RU
3Be3go4ka_c_He6a
3BEPO3ABP
47x
Achievement
Adulation
C4ACTJluBA9l
Changeless
CyPPeR_HyPo4kA
Dav1d
Destroy
Devise
Dmitry
Dysphoria
Guap
Heaven
Hunter_violators
II_Mandarinka_II
Immortal-MACTEP-7
Immortal_Hero_Ximera
JlyHHa9l_geBo4ka
K.0.H.C.T.A.H.T.U.H
Kamila
KOHCTAHTUH
Koira
LADY_0F_DARKNESS
Lamour
Loadi
Morendy
Mr.DEUS
Mr.Kenan
NeverWannaLookBack
NoLoveNoProbIem
NoName
Ocsid
Octopusys
Quo
R-A-D-U-G-A
sotnikovvanya
T.-007
TIOCJlAHHUK_HE6EC
Tou
u3BoPoTJIuI3a9I
V_i_k_TO_r_i_A
Volant
DE
Chicago-Whiteout
Ghost.Warrior
giggie
Intellect
Luyas
Mandalore
MarcelKaot
Marco
Mr.Conspiracy
Sergeant_Tom
Tani_S
TimTaylor
Water.Sky
PL
Appearance