From Tanki Online Wiki
About Zone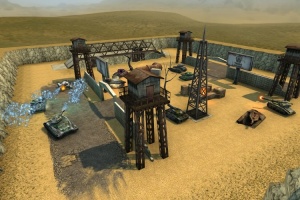 Overview: Zone is definitely the most popular for XP and BP games. It isn't very common at low ranks, but gains popularity as you reach ranks that are popular for XP/BP.

Battle Modes: DM, TDM, CTF, CP

Size: 12 players, 6v6

Tactics
DM
The best two weapons to use in this mode are definitely Firebird and Railgun. The chance for double shots are high, and both Firebird and Railgun can achieve this effectively. With Railgun, scouting round the edge and up the ramps keeps you away from enemy fire. With firebird, the whole map is your to own. Once you have set your enemy alight and burning, hide and wait for them to die without you incurring anymore damage. If you really want multi-kills, using Striker wont let you down, as even firing the rockets one-by-one will have some chance of getting those awesome kill streaks!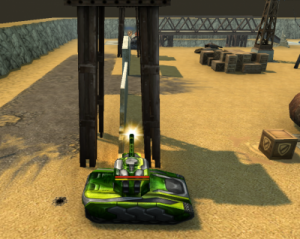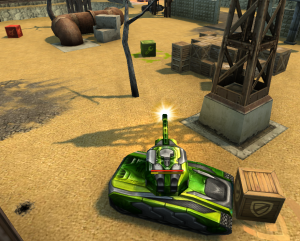 CTF
In XP, which is the most common form of CTF in Zone, there are many awesome shots that can be made with Railgun. You can shoot through the legs of the brown towers. These shots can surprise your opponent and can give a true advantage over your enemy. Another tip is to make the enemies 1 shot away from death, get yourself killed, and then respawn and capture easily having killed them swiftly. A Magnum may or may not - based on the user's skills - be able to provide cover support from their base by shooting across the map.
TDM
Very rarely played, and once again Firebird and Railgun would probably by your best options as they both have high damage. The best hulls would be Hornet, Hunter or Viking as they are have a good speed to health ratio and are all very maneuverable.
CP
Even more rarely played. With supplies on, heavy hulls like Mammoth and Titan would be preferable, and without supplies Viking is the best option. All you need to do is get to the point and sit on it. Perhaps having one tanker go and attack the enemies as they re-spawn can make it easier to wipe the out and get those points captured.





Recommended Equipment
DM
Firebird, Railgun, or Striker.
Hornet, Wasp, Viking, Hunter, Dictator, Mammoth, or Titan.
TDM
Firebird, or Railgun.
Hornet, Hunter, or Viking.
CTF
Railgun, Freeze, or Magnum.
Viking, Hunter, Wasp, or Hornet.
CP
Ricochet, Firebird, Freeze, Hammer, Striker, or Railgun.
Viking, Mammoth, or Titan.