Guide to playing in Tribute effectively
From Tanki Online Wiki
About Tribute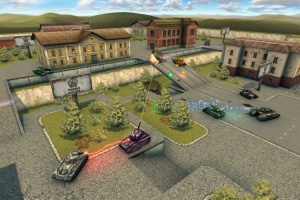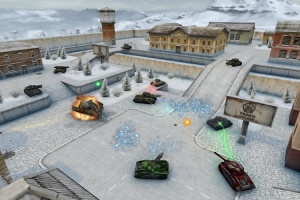 Overview: Tribute is gaining popularity quite quickly after becoming a map used in the Tanki Online Clan Tournament.

Battle Modes: DM, TDM, CTF, CP

Size: 10v10, 20 Players

Tactics
DM
Deathmatch in Tribute is pretty much the same as everywhere else. There are 2 good tactics you can choose from.
"Camping" Tactic
In order to pull off this tactic effectively, you need a few things.
Find a good spot to camp. This spot needs to be well covered, but give you an open space to shoot at.
Have a few supplies on hand. You will find this tactic working best if you are able to use Double Damage as much as possible.
Have appropriate equipment for the area you can see - for example, Magnum for long-range, Striker for all ranges and Railgun for medium-long.

While camping, you need to try and be as sneaky as possible. You should try to steal kills (Striker is by far, the best for stealing kills) rather than killing someone alone as this will keep you well-hidden. Target the weakest player as every kill is equal. Double damage will be your best friend while camping, so make sure you have plenty on hand.
"Hit and Run" Tactic
This tactic is much harder to use effectively as it requires you to be as unpredictable and sneaky as possible. This tactic works well in any part of Tribute, from the close combat side (Upper) to the slightly more open side (Lower). The key to pulling off this tactic effectively is to always try to attack your target from behind him and keep out of other tanks line of fire. That way when you are noticed for damaging them, it will most likely be too late.

You will need to be moving almost always as that makes you a harder target to hit, especially for Weapons such as Twins and Ricochet. Another key tactic is using a corpse shield. This is when you use another tanks corpse to protect yourself from Twins, Ricochets, Smokys and Hammers. This is helpful while reloading or trying to make a getaway from a strong tank.

You will need to try and finish off your enemies very quickly as there will be tankers waiting to steal your kill. The best combos for this would be Firebird and Hammer, as they are extremely high damage turrets.
Overall the best combos would be out of Firebird, Freeze, Isida, Hammer, Twins or Ricochet on top of a Wasp, Hornet or Viking.
TDM
Defensive
Very similar to the "camping" tactic explained in Death Match except you will need 1-2 Isidas making sure all the campers are topped up with health. The campers should be spread out and help create a distraction for the tankers that decide to try and attack the enemies more closely. This comes somewhere defensive and offensive, but a Magnum can possibly keep shooting at the enemy base without the need to ever appear out of it's den.
Attacking
Again, very similar to the "hit and run" tactic explained under DM. The only difference is you have players helping you, so you need to work together. An Isida will come in handy while storming the opponents side as well.
CTF
Defence
All you need to do in defence is have a heavy hull and a few mines. As the paths to both flags are quite narrow, defending effectively can be an easy job if done properly. You will need to lay 3-4 mines down each path to ensure any tank trying to get through will be heavily or completely destroy anyone trying to get past.
Titan would be best for the upper team as it can fit into the small gaps quicker and easier than Mammoth, but Mammoth is better on the lower team as maneuverability isn't as much of a problem. As far as turrets go, there are 2 key ones. Vulcan and Smoky. Vulcan for its long range, off-putting impact force and decent damage rate and Smoky for its fast firing rate, massive impact force and decent damage. Do note that a Magnum can also defend and offend in the time of need. An Isida behind you healing you can top the defence off and make it almost indestructible by any average tanker.
Attack
The best way to attack normally would be in waves of about 3 with an
Isida
backing up. That way everyone can stay topped up with health while dealing damage, protecting the Isida and taking the flag. Try and send a
Wasp
or
Hornet
through a route that isn't covered well (seen beside). That way they can go unnoticed, steal the flag and make a quick getaway.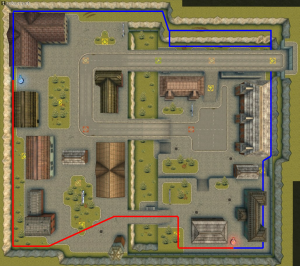 If you are in the Upper Team, position a Hunter or a Viking with Smoky, Rail or Vulcan by the "water tower" so they can view and shoot at a lot of the enemy's base. After taking a flag, try and use the ledge trick close to the Red flag as a quick getaway (as shown in image below). This can get the flag into safe territory very quickly.
The ledge trick can also be reversed and used as a shortcut for the Lower team. This works by them driving off and balancing themselves as they drive along the edge. It can be a very effective and quick way to capture a flag.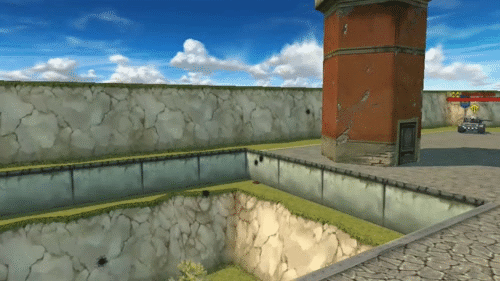 CP
The tactics for Control Points are the same as always, get to the point and try hold it for as long as possible. Some may say Mammoth and Titan are the best of CP because they are hard to kill and harder to push, but on a map like Tribute, they only work when controlling the point in your base. This is because their speed means it takes them a while to get to the point, so they will most likely have been damaged badly or killed by the time they reach the point.

A Mammoth/Titan Twins holding back is a good idea, because even if most of the other points are not under your control, you will still be putting points on the board. The most effective hulls would be Hunter, because it has insane pushing power and good health to speed ratio, Viking, because it is incredibly stable and has an awesome health to speed ratio, and Dictator, because it is hard to push and has an alright health to speed ratio.

The turrets to use depend on what you are trying to do. If you plan to go and try stealing a point out of the enemies control, Firebird is the way to go. It has incredibly high damage, can damage multiple enemies at once and even if you die, the after burn can still take out the remaining enemies so you team can get in and steal the point. Hammer is also good if there aren't many enemies around the point, especially if they are using light hulls or have already been damaged.

If you plan to go all-out and kill enemies before they reach anywhere (a.k.a spawn-killing), Striker works like a treat, since the spawn points in this map are close and one perfectly timed salvo can possibly take out a whole spawn.
If you plan to hold back and wipe them off the point from a range then attack then Smoky, Vulcan and Thunder are the way to go. Their max effective firing range is quite long so there is no need to worry about your shots not doing as much damage as they could be.

If there are multiple tankers trying to clear a point, try spread out so they struggle to clear you all quickly. An Isida always comes in handy, especially while trying to take control of a point, so don't be afraid to ask someone to take Isida, it could be the difference between winning and losing a close match.
Recommended Equipment
DM
Camping
Vulcan, Smoky, Striker, Thunder, Railgun and Shaft
Viking, Dictator, Titan and Mammoth
Hit and Run
Firebird, Freeze, Isida, Hammer, Ricochet, and Smoky
Wasp, Hornet, Hunter and Viking
TDM
Defensive
Vulcan, Smoky, Magnum, Thunder, Railgun and Shaft
Viking, Dictator, Titan and Mammoth
Attacking
Firebird, Freeze, Isida, Hammer, Ricochet, Magnum and Smoky
Wasp, Hornet, Hunter and Viking
CTF
Defence
Isida,Vulcan, Magnum and Smoky
Titan and Mammoth
Attack
Firebird, Freeze, Isida, Hammer, Ricochet, Magnum and Smoky
Wasp, Hornet, Hunter and Viking
CP
Firebird, Freeze, Isida, Hammer, Striker, Magnum Ricochet, Twins, Vulcan, Smoky, Thunder
Hunter, Viking, Dictator, Titan and Mammoth