Guide to playing in Hill effectively
From Tanki Online Wiki
About Hill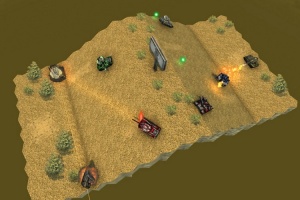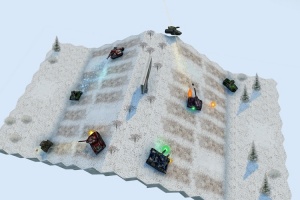 Overview: Hill is a very small map. It is quite common and usually there are a few good battles on active servers.
It is quite famous for its Gold Boxes, as there are only 2 spots, it can be quite easy to take them with the right hull and plan.
It can also be the home of some high fund battles. As it is so small, there is no time needed to drive back to where the action is because you spawn in the middle of it.
Remember that no repair kits drop on Hill, so an Isida is golden in team battles.

Battle Modes: DM, TDM, CTF

Size: 8 players, 4v4

Tactics
DM
Deathmatch is quite different on hill, as you can't camp in one spot and steal everyone's kills. The best way to finish top in a Deathmatch on Hill would be to keep moving around. Moving targets are much harder to hit, especially at close range, so this will probably be your best bet at staying alive. The best turrets for this tactic are Firebird, Freeze, Hammer, Twins and Ricochet mounted on top of either a Hornet, Hunter or Viking.
Another tactic which suits Ricochet the best is holding back and attacking from the other side. As shown in the image, Ricochet can shoot of the billboard and down onto the other side, being able to hit almost anywhere on the other side. It works best with Viking, due to its low height, but it can still work with all hulls pretty well.
Twins is also a great weapon to use in Deathmatch as it has a great vertical range. It can in the middle of the top and hit almost anything on the map and the constant fire makes it super hard for your enemies to retaliate.
Isida with Viking, equipped with a mountain of supplies and running around like it went crazy, dominates almost every DM, so if you have a massive stockpile of supplies and are feeling bored, try this combination, otherwise you may have to settle for one of the more appropriate options.
TDM
There isn't much variation in the tactics you see in Hill between the different battle modes as it is such a small map. The tactics for TDM are slightly different though. As there is no objective to capture a point or steal a flag you can get away with playing defensively and camping. In fact, Camping is one of the best TDM tactics for small or cramped maps.
Due to the bouncing effect from Ricochet, it makes it the perfect turret for TDM. You can be on your side of the map and using the centre billboard, you can hit almost anyone on the opposition's side.
One or Two Titans sitting on the top corners of Hill, an Isida driving around healing the Titans and a Ricochet with Viking firing from behind make an awesome team that's incredibly hard to take down. The optimal weapons for the Titans would be Twins, Smoky, Ricochetor Thunder, making sure they don't use the same turrets to prevent paints from having a major effect. A second Viking or Hunter with Firebird, Freeze, Hammer, Twins or Smoky can replace one of the Titans as an up-front attacker, but this position will require using or picking up quite a few supplies.
CTF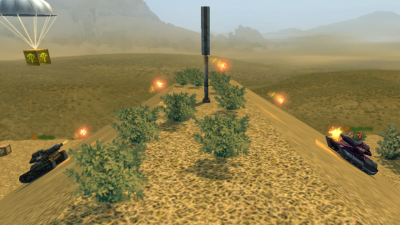 Defense
Hill isn't really a defending/offending type map. As it is so small, it becomes everyone's responsibility to both attack and defend. You can still play in a defensive style, but defending won't be your only responsibility.
If you want to play a defensive style, Twins, Vulcan, Ricochet or Freeze are your go to turrets. When mounted on top of a Viking, Dictator, Titan or Mammoth, they provide a strong defense as well as a worthy attacker.
Your best position would be on your side of the hill around where the speed boost drops, so you can catch people trying to jump over onto your flag, or on the top of the hill facing the enemies flag. Be careful of Wasps and Hornets jumping onto you and planting a mine as well, but the pole in the middle should prevent them from getting enough speed to get on you.

Attack
Again, attacking is everyone's responsibility, so it is best to have a dynamic hull. Isida is the key to winning, like every small map. An Isida can totally flip a battle, so make sure you have one on your team.
Some other great turrets for Hill are Hammer (high damage, impact force and quick reload between shots), Twins (no reload, high damage and decent impact force), Smoky (quick reload, reasonable damage and epic impact force), Firebird (massive damage + after burn, ability to damage more than 1 enemy at once) and Ricochet (high damage, attack from a defensive position (see image)).
These turrets are best mounted on a medium hull. Viking would be the best option, as it is low so it's very hard to flip, followed by Hunter, Dictator, Titan and Hornet. Try and let the player without supplies equipped take the flag (as long as he has enough health), so the ones that do have them on can deal with the enemies once they re-spawn.
Recommended Equipment
DM
Firebird, Freeze, Isida, Hammer, Ricochet or Twins.
Hornet, Hunter or Viking.
TDM
Firebird, Freeze, Isida, Hammer, Ricochet, Twins, Smoky, Vulcan or Thunder.
Viking, Dictator, Titan or Mammoth.
CTF
Defense
Freeze, Ricochet, Vulcan or Twins.
Viking, Dictator, Titan or Mammoth.

Attack
Firebird, Freeze, Isida, Hammer, Ricochet, Twins, Vulcan, Smoky or Thunder.
Hornet, Hunter, Viking, Dictator or Titan.