Guide to playing in Duel effectively
From Tanki Online Wiki
About Duel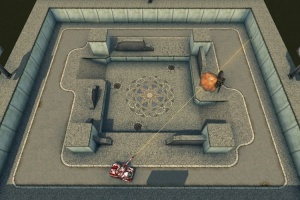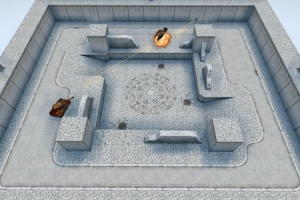 Overview: The appropriately named Duel is the smallest map in TO based on players' capacity. At a miniature size of 17x15 props, it barely fits 2 players
Battle Modes: DM, TDM
Size: 2 players, 1 v 1

Tactics
DM/TDM
As Duel is extremely small, High Damage and Quick Reload turrets are the best.
Ricochet's Bounce really cones into effect as generally your opponent will be hiding behind the barriers.
Hammer is another great choice as it has heaps of damage, a very quick reload and the impact is insane.
Smoky is another great candidate. The critical has a really high damage, the general shots have a decent amount of damage as well and the reload is the quickest.
Thunder is the final candidate, as the splash damage allows you to damage enemies while they are hiding.


Viking is probably the best hull, as it has a lot of armour, a decent maximum speed and is very manoeuvrable.
Hunter is also good, but the drift will get really annoying when trying to avoid your enemies. Anything heavier makes it too hard to avoid your enemies shots unless you aren't planning on moving around much, then Titan would be the way to go.
Recommended Equipment
DM/TDM
Firebird, Freeze, Hammer, Ricochet, Smoky, Thunder or Railgun
Hornet, Hunter, Viking or Titan