From Tanki Online Wiki
Green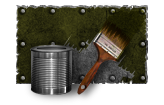 | | | |
| --- | --- | --- |
| Type | | Garage paint |
| Price in Garage | | 0 |
| Rarity | | ▨ Common |
Availability
| | | |
| --- | --- | --- |
| Available from | | Recruit |
| Currently obtainable | | Yes |
| Found in Containers | | No |
| Purchasable in Garage | | Yes |
Description in Garage
A tribute to the tradition of the classic tank, this simple color, so beloved by designers all over the world, has become a standard paint for factory models. This legendary color has the true connoisseurs returning to it, having tried everything in the world.
Green is a paint in Tanki Online. It can be purchased from the rank of

Recruit in the Garage for 0 crystals.

Interesting facts
This paint is given to the player upon registration. Holiday is the only other such paint.
Price: N/A.
Green is generally identified as the default paint, as it is equipped for new players and used to decorate items for sale in the garage.
Due to it being free and universally-owned, an easily-accessible paint like one this is often required to be equipped in media contests such as Video of the Week - to prevent older content from being used.
Legacy paint description:
A paint without any defensive attributes. It has a bright green color that helps you blend with the vegetation.
Appearance