From Tanki Online Wiki
Golden Star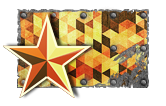 | | | |
| --- | --- | --- |
| Type | | Garage paint |
| Price in Garage | | 750 000 |
| Rarity | | ▨ Epic |
Availability
| | | |
| --- | --- | --- |
| Available from | | Recruit |
| Currently obtainable | | Yes |
| Found in Containers | | Yes |
| Purchasable in Garage | | Yes |
Description in Garage
Gold plating dusted with diamond filings. This coating can only be afforded by the wealthiest tankers.
Golden Star is a paint in Tanki Online. It can be purchased from the rank of

Recruit in the Garage for 750 000 crystals or obtained randomly by opening a Container.

Interesting facts
The paint first appeared on May 1, 2015, as a holiday cover for the May holidays.
Returned on sale July 21, 2016.
Paint used to be possible to be purchased with an active premium account until December 2020.
This is the most expensive paint in the game that can be purchased for crystals, and one of only 2 Epic Garage paints - the other being Frost.
Appearance