Glide
From Tanki Online Wiki

Description
This unique paint job was designed for members of the "Academy of Parkour" parkour team. It first appeared on the main servers in July 2013 but was removed from the garages of its owners in December 2015. At present, the Parkour Academy team has it. These guys not only perform various tricks on their tanks but also produce excellent video guides.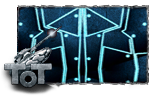 Click to preview texture!

Attention! Players who leave the team lose their paint.
Rarity
✹ Special
Interesting Facts
Paint appeared on July 4, 2013 (update 166).
Paint was given to the members of the Tanki Online Tutorials (TOT) team.
At the end of December 2015, the TOT team was disbanded, and the paint was removed from the garages of the tankers that owned it.
On August 26, 2016, the paint was given to the Parkour Academy team.
List of paint owners:
Guard
Tou
Drakon
Trand
Without
Merci
Sorteo
APMU9I_3JlA
Solitude
Hounder
MoJloToK
Where
Flyers
Fog
N9-00
Milkwed
Appearance