Gears
From Tanki Online Wiki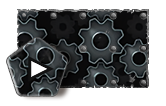 Description
Gears on your tank launch a perpetual motion machine, which means you can now reach the maximum efficiency in battles with the minimal resource waste. The effect wasn't proven yet though.
Rarity

Legendary
Available From
Interesting Facts
The paint was added to the containers on August 10, 2018.
This coating can only be obtained from the container.
Appearance