From Tanki Online Wiki
Flame 2.0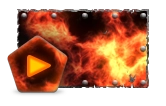 | | | |
| --- | --- | --- |
| Type | | Helper paint |
| Rarity | | ▨ Special |
Availability
| | | |
| --- | --- | --- |
| Available from | | Recruit |
| Currently obtainable | | Yes |
| Found in Containers | | No |
| Purchasable in Garage | | No |
Description in Garage
An animated version of the legendary «Flame» paint. They say that nobody has managed to subdue the elements yet except from the Administrators of Tanki Online who also handle more serious tasks on a daily basis: wise and fair guardians of the game manage helper groups and are responsible for different sectors of community life. The paint commands respect to its owner and gifts an ability to predict actions and wishes of tankers.
Flame 2.0 is an animated paint in Tanki Online. It is issued to Administrators managing the groups of helpers for some time. Players who leave the position will lose the paint.

Interesting facts
This paint was added to the game on June 6th, 2020.
Appearance