Far North
From Tanki Online Wiki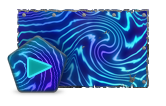 Description
A pattern that is very hard to see in nature. This is what the horizon looks like in the North Pole during a couple of days in early spring.
Rarity

Legendary
Available From

Recruit
Interesting Facts
Paint could be received as a reward for completing the challenges of the challenge (04/01/2019 - 04/29/2019) with a battle pass.
Paint can also be obtained from the container.
Appearance