Entering the game
From Tanki Online Wiki
The game servers work around the clock. Usually, there is a restart of all servers at 02:00 UTC+0 or 03:00 UTC+0 (depending on Daylight Savings), which makes them unavailable for around five-ten minutes. Downtime is sometimes lengthened if major maintenance is required.


There are multiple methods to enter the game. You can use any that you prefer. These alternative methods can be found below.


Entering via Browser
The following is one of the most common and easiest methods, entering Tanki straight from your browser. You can use the following direct link to access the servers from your browser.
http://tankionline.com/battle-en.html

---
Entering via a browser - Flash
If you end up using the HTML5 online version of Tanki and want to revert to using Flash, or for whatever reason you wish to use Flash, use the following link.
http://tankionline.com/flash

---
Entering via a browser - HTML5
If you want to try the HTML5 version of Tanki, or you can not run Flash for whatever reason, use the below link. Note: HTML5 is still a relatively new technology. Not all browsers support it, thus if you experience errors try using another browser or updating your existing one.
https://tankionline.com/html5/index.html?resources=https://s.eu.tankionline.com&config=https://c11.eu.tankionline.com/config.xml&locale=en&lang=en
---
Troubleshooting
Refer here for troubleshooting.
Features

All you need is a browser to play - no downloads or anything.


There may be more lag on a browser compared to the client or Standalone Flash player.

Entering via Standalone Flash Player
Standalone Flash Player
If you prefer to use Standalone Flash Player, you will find the link below:
Just copy one of the following links, go to File → Open → and paste it.
http://tankionline.com/AlternativaLoader.swf?config=c1.tankionline.com/config.xml&resources=s.eu.tankionline.com&lang=en&locale=en



After you enter a link for the first time it is saved in the menu.
There are three ways to get into private battles using Standalone Flash Player:
You can join the battle using a browser. Then you need to copy the URL from the address bar and open it using Standalone Flash Player. In this case you get right into the battle.
You can copy the URL right into the chat and then click on it (in this case other players will also be able to see the battle)
You can be invited by a friend who is currently in the battle.
Features

Works faster


There is no need to keep your browser open


Links to battles (including links to private battles) do not work


Links to websites of payment systems don't work – it is better to use a browser


You need to close the player to re-enter the game
Unfortunately, joining a specific battle by clicking a link to it isn't possible on Standalone Flash Player. However, you may send a private message containing the link to yourself in chat and join the battle that way.
Sequence of actions
Download the program:

Launch it:
Go to File → Open → Select a Server link from the list and paste it.
If you use Windows it is possible to create separate shortcuts to make the Flash Player automatically go to the necessary server. To do this, you need to create a shortcut leading to downloaded file called flashplayer_25_sa.exe, then open its properties, find a line called "Object:", put a space just after the name of the file and enter the link of the server you need.
Creating Standalone Flash Player Shortcuts
Download the Standalone Flash Player .exe file and find it in the download folder:

Right click on the file and select 'Copy to' > 'Desktop (create shortcut)'
A new shortcut will be created and placed on your desktop:

Right click on it, select 'Properties'
In "Properties" window, you will see the word "Destination". Paste the link of the server you want (one of those listed above) into that field.
Make sure to leave a space between the document link that was already there and the link you pasted:

Entering via the official Game Client
Entering via official Game Client
Tanki has its own reliable and optimized client which anybody can obtain.

Procedure
1 Download the client. Check to ensure that you meet the System Requirements.
2 Open the installation package (double-click) and follow the on-screen installation wizard. (Windows).
3 Now that the client is installed, simply launch the client by selecting it from the Start Menu, or searching for it.
---
Features

The client is usually faster than the other methods of entering the game.


Battle links may become a hassle as the client has no address bar to enter battle links. The easiest way to get around this to send yourself a private message in the chat with the link to join. You can send yourself a private messege by typing Yournickname: followed by the link.


Issues tend to be more common in the client than in other methods of entering the game, such as a browser.
---
Troubleshooting
Entering via Facebook
This method of entering an account is only possible for users who have an existing Facebook account.

Logging in via Facebook for existing accounts
1 Click the Facebook icon on the entry screen: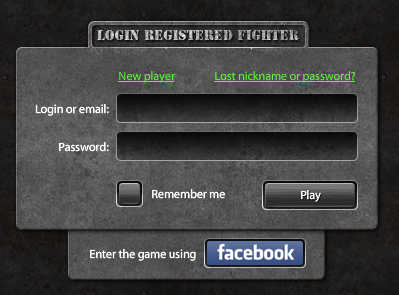 Or use the icon in the Settings menu.
2 When linking your account using the entry screen, you will need to enter your Tanki Online nickname and password once again, in order to prove that this account is really yours.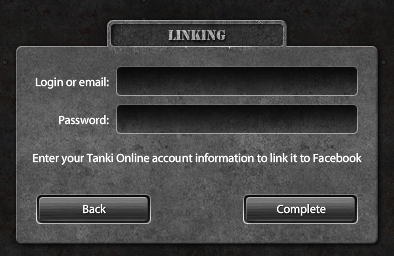 If you link your account using the Settings menu, you won't need to enter your password; everything will be done straight away!
---
Creating a new Tanki Facebook account
1 Everyone who enters the game for the first time will see this form.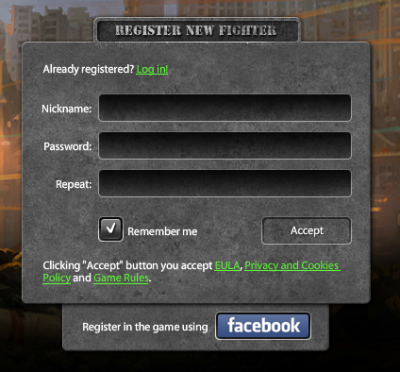 2 Instead of filling in all the forms, you can just click on the Facebook icon. After that, if you haven't logged into Facebook, the following window will appear: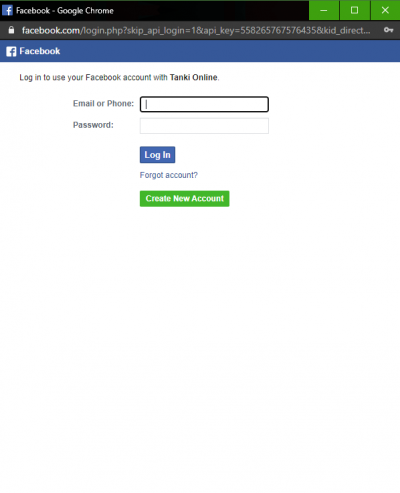 3 After entering your e-mail and password connected to Facebook, a player will see the following window: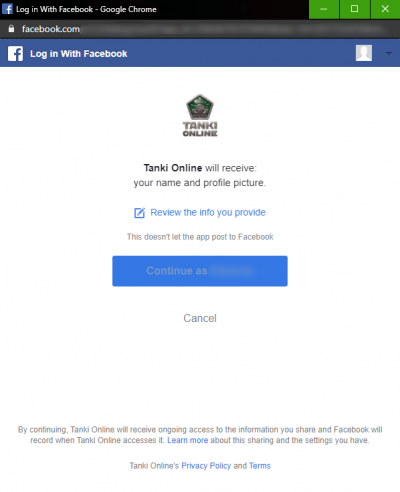 4 After clicking Play Now, you will need to enter a nickname for Tanki Online: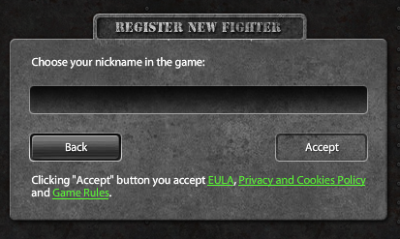 After entering the desired nickname, you'll be loaded straight to the Lobby as the rank of Recruit. From that moment, the you will be able to enter the game by simply clicking on the Facebook icon.
---
Features

Added security.


Choosing the password is not possible when creating a new Tanki account through Facebook, you must contact Tech Support to request a password which will enable you to login via all the other login methods.